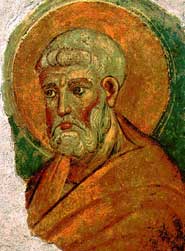 Here is chapter 3. Please critique my translation work.
3This is now, beloved, the second letter that I am writing to y o u, in which I wake up y o ur pure mind with a reminder, 2 to recall the sayings which were proclaimed beforehand by the holy prophets and of the commandment of y o ur apostles of the Lord and Savior, 3 knowing this first of all, that mockers will come in the last days, walking according to their own impious desires 4 and saying, "Where is the promise of His coming? For since the fathers fell asleep, all things remain as they were from the beginning of the creation." 5 For when they maintain this, it escapes their notice that long ago there were heavens and an earth, formed out of water and by means of water by the Word of God, 6 by means of which the world at that time having been flooded with water was destroyed; 7 but by His Word the heavens and the earth which now exist have been held in store for fire, being kept until the day of judgment and destruction of the impious people. 8 But do not let this one thing escape y o ur notice, beloved, that with the Lord one day is as a thousand years and a thousand years are as one day. 9 The Lord is not slow to fulfill the promise, as some think of slowness, but is patient toward us, not wanting any to be destroyed, but all to come to repentance. 10 But the day of the Lord will come like a thief in the night, in which the heavens will pass away with a rushing noise, and the elements will be broken apart by burning heat, and the earth and the works that are in it will be consumed by fire. 11 Therefore, since all these things are being broken apart, what sort of persons ought y o u to be in holy behavior and piety, 12 waiting for and hastening the coming of the day of God, because of which the heavens, being set on fire, will be broken apart and the elements will be melted by burning heat! 13 But according to His promise we are waiting for new heavens and a new earth in which righteousness dwells.
14 Therefore, beloved, waiting for these things, make all the more effort to be found by Him in peace, spotless and unblemished, 15 and regard the patience of our Lord as salvation, just as also our beloved brother Paul, in accordance with the wisdom given to him, wrote to y o u, 16 as also in all his letters when he speaks in them about these things, in which are some things hard to understand, which the uninstructed and unstable twist, as they do also the rest of the Scriptures, to their own destruction.
17 Y o u therefore, beloved, knowing this beforehand, be on y o ur guard lest, being led away by the error of the lawless, y o u fall from y o ur own stable position, 18 but grow in grace and knowledge of our Lord and Savior Jesus Christ. To Him is the glory both now and into the day of eternity. Amen.